Blog
The latest about Hometown Acres, microgreens, healthy eating and more.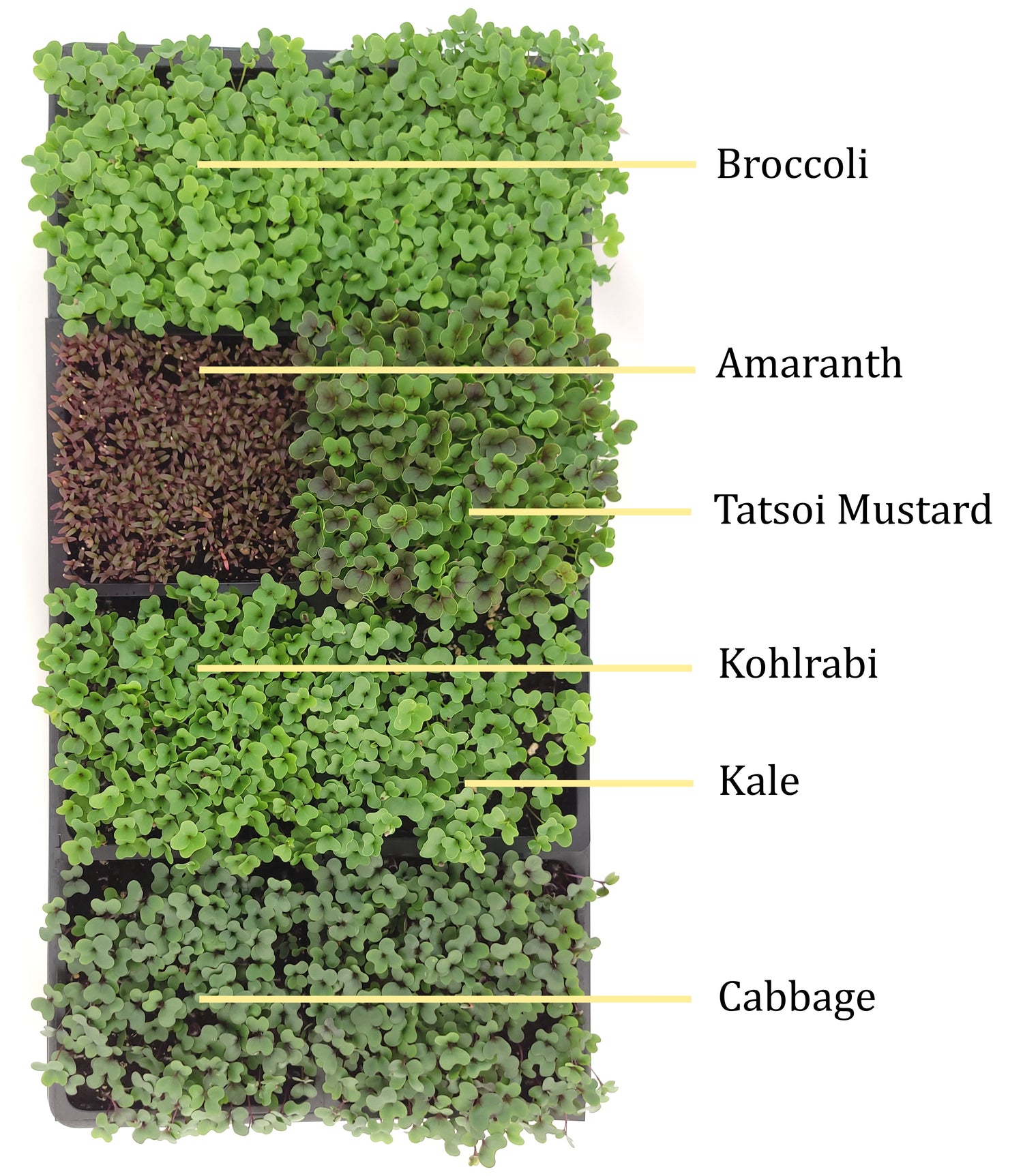 Seasonal Farmers Blend Current Crop Offering
We rotate crops here at the farm through seasonality and seed availability, as well as the plain ol' fun of growing new things. Check out our current offering of microgreen blends to the left. Your tray will arrive at your door in the same order to keep things easily recognizable. Below is some information on each crop we offer.
Calabrese Green Broccoli
We grow a variety of broccoli called Calabrese Green, which is an Italian heirloom brought to the states in the 1880's. Broccoli is an inredibly nutrient rich microgreen known for it's high content of a compound called sulforaphane. Sulforaphane is a powerful anti-cancer, and is found in many cruciferous vegetables. Anyone familiar with sprouting and microgreens should invest some time in researching the mind-bending benefits of sulforaphane.
Red Garnet Amaranth
Red Garnet Amaranth is a gorgeous microgreen with a taste very similar to red beets. These beauties will take any dish you make and add an unraveled pop of brilliant pinkish red color. Contrast these with dishes deep in greens or whites and you'll be known all around town as the local gourmande!
Purple Tatsoi Mustard
Tatsoi is an Asian variety of Brassica crops grown for greens. With a flavor similar to but less intense than wasabi, it is closely related to the more familiar Bok Choy. This plant has become popular in North American cuisine as well, and is now grown throughout the world. Tatsoi, as with many Brassica crops, is rich in phytonutrients. Phytonutrients are becoming recognized as part of a nutritious diet that promotes long-term health. Add these beautiful purple greens to taco's for a refreshing zing.
Purple Vienna Kohlrabi
Another Italian heirloom, the less recognized kohlrabi plant is a cousin of the turnip. It has beautiful purple stems that look gorgeous mixed into a salad. Kohlrabi microgreens have antioxidants, fiber, Vitamins A, C, and B-complex, calcium, potassium and copper, far more than you would find in it's fully grown counterpart. That's all the immune-building, energy-pumping, bone-strengthening good stuff.
Red Russian Kale
Red Russian Kale, vs. other varieties of kale, is known for it's mild flavor, while still providing a ton of those great kale benefits! A single serving (one cup) contains more than a day's worth of vitamin A requirement, which is important for eye health and immune function. It is also full of vitamins K, C, and B6 as well as manganese, copper, calcium, and magnesium.
Red Acre Cabbage
Red Acre Cabbage is another member of the Brassica family crops and shows this off in its nutritional benefits, phytonutrients and anti-aging compounds. Red Acre Cabbage, as a microgreen, does not have the bitter flavor that sometimes needs to be cooked out of raw, fully grown cabbage, and as a microgreen they are delicate and nutty. We provide Red Acre Cabbage quite often in our blends because of its delicious flavor and nutritional superiority.